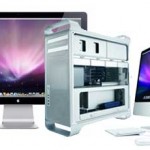 Desktop or Laptop: Which Mac Should You Get?
People who have decided on an Apple computer still have to decide whether or not to get a desktop machine or laptop for their needs. Would I need my machine to be portable or do I want my computer to be strong and powerful? It's the age old question – iMac Vs Mac Pro and its one that I'm planning on trying to answer.
Here are a few things to think about. This decision is extremely important as for many people, the costs of purchasing an Apple device represents a massive investment of their capital and time. It requires a lot of thought.
• Sheer Power: Power user or not, this decision can be made by determining what kind of applications you plan on using with it. Video editors and graphics designers might find desktops more appealing due to the amount of processing power they require. Writers, bloggers and less intense graphic designers may not require that much processing strength.
• Portability: Students may find that even if they have a part-time job as a web or graphic designer that they may prefer a laptop. In the iMac Vs Mac Pro battle, the iMac often wins out with the student population because having a laptop for note-taking purposes is actually immensely helpful. Desktop computers might have more power, but students tend to be busy with, well, schoolwork and thus don't spend that much time in front of a desktop. Graphics designers may elect for a desktop as they wouldn't really need to move around. Writers on the other hand may need to move around to get inspiration from different locals and contexts
• Price: This is probably the biggest consideration for many people. iMac Vs Mac Pro battles are usually decided by people's wallets, though those wallets are usually fairly big to begin with as Apple products tend to generally be expensive. For people who cannot afford to keep upgrading to the latest model, they will simply buy the best option they have so that it will last as long as it can.
There are three of the most important considerations that can decide which one you're going to get. At the end of the day, it really comes down to what you need. Once you think about the aforementioned categories you'll be able to pick a side in the iMac Vs Mac Pro battle.