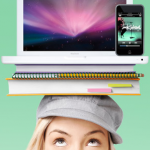 Apple has many different products that can be useful to a college student. Among the products available are the MacBook, iMac and the very popular iPad. But which is the right one for you? Well it all depends on your needs and what you plan on using the device for. It also depends on what you may already have right now. Let's take a look at each different Apple product and how they can fit the needs of a college student.
If you already have a laptop or desktop, getting an iPad would be the best choice in most cases. The iPad is easy to carry around and you can easily transfer information from back and forth between your iPad and desktop or laptop. The iPad even has a keyboard that you can buy to use with it. The battery life on the iPad is also a plus. You can take it from class to class without having to worry about it dying on you.
Now if you don't have a computer the best choice for you would more than likely be the Macbook. This powerful laptop will allow you to have a computer and be mobile. The Macbook can be used for computer intensive projects and can also be taken to class with you. The battery life of a Macbook is excellent and gives you a lot of flexibility when it comes to being mobile. You can usually get away with leaving in the morning for class and not having to charge it again until you get back in the afternoon. The Macbook is an excellent choice if you don't have anything right now.
If you are in college for something like graphic design or you have to edit film, the iMac will be the computer you will want to get. The iMac has an excellent reputation when it comes to graphic design and video editing. For students that are in a specific field of study, the iMac can be a valuable asset. But even if you don't need the iMac for these purposes, if you already have a laptop the iMac makes and excellent desktop computer.
These three Apple products are all great, and as you can see, can fulfill different needs for a college student. By assessing your needs and what you currently own, you can be confident you will make the right selection when it comes to deciding between the three products. There are times people choose two out of the three.