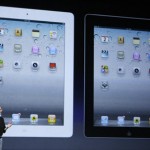 When Apple first debuted the iPad, many were skeptical of it's success. Now, no one is saying anything negative about Apple's iPad line. With a commanding 90% market share, Apple sits alone on top of tablet computing. Rather than resting on their laurels, Apple has quickly brought the iPad 2 to the market to compete with competitors aimed at taking some of Apple's market share.
The iPad 2 is largely similar to the original iPad. It has the same screen, with the same resolution. Many people from afar wouldn't be able to tell the difference. However, internally the features couldn't be more improved.
Apple has included a dual-core processor on the iPad dubbed the A5. This processor is significantly faster than the processor included in the original iPad. Games and applications will both see a tremendous speed boost with the new parts inside.
The iPad 2 also comes with a camera on the front and back. This was a long-standing criticism of the original iPad. Now you can use Facetime with the front camera, and take pictures with the back camera. Both are capable of high quality pictures.
It has not been revealed by Apple whether then RAM has been upgraded in the iPad 2. Most analysts predict that they updated it to 512 MB of RAM to keep up with their competitors.
The iPad 2 is also much slimmer than the original. It is now more slim than the iPhone 4. Many initially speculated that this wouldn't make much of a difference, but it is an entirely new experience with this in your hands. Putting the iPad vs iPad 2 in your hands, it becomes quite clear that this one iPad will be much better for day to day use.
The iPad 2 also has some revolutionary new accessories that far surpass what was available on the iPad. The new cover that you can purchase with the iPad 2 attaches magnetically to the glass of the iPad screen. When you unfold the case, it can fold into a stand that you can use to put the iPad on your desk. This dual functionality is elegant and fits in perfectly with the iPad's sharp aesthetics.
The new iPad also ships in black or iconic white for those who want a different look to their device. In the case of the iPad vs. Ipad 2 there is a clear winner. Apple has gone all out and made a great product for 2011.